The digital office is not new to our organization. We have been providing cost effective digital document solutions since the introduction of digital equipment. As an authorized dealer of Ricoh's full product lines of copiers, color copiers and multifunction devices and multifunction products, Docutek offers the best of both worlds: The virtually unlimited technical resources of these industry giants combined with the individual attention only a locally owned vendor can provide.
Service is not just a department in our company nor is it just a technician with a toolbox. Service is the attitude our entire company takes on at your moment of need. We understand that when your systems stop working, it is not only frustrating but it can cost your organization money.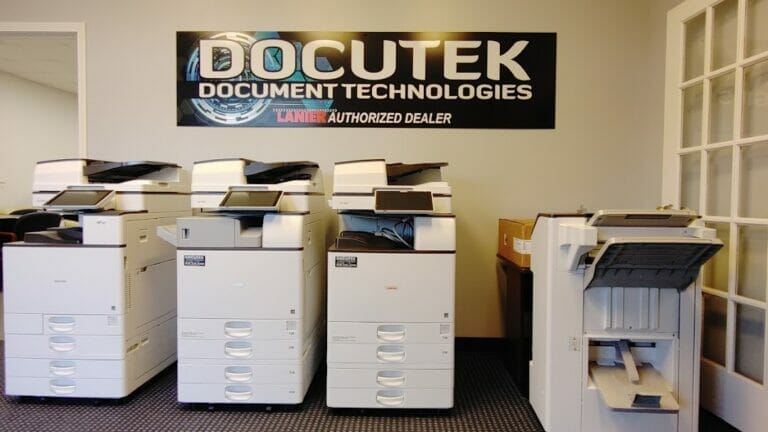 At Docutek we realize that our quick response time is critical. Because we are a local service provider for the Hickory, NC area our certified specialists will quickly respond and methodically isolate trouble areas in order to provide effective permanent solutions to maximize the performance of your system.
Today, we are in the most complex work environment in history, and to be successful, you always have to have access to your critical information, no matter where you are. At Ricoh, we call it the new world of work, a place where the only constant is change. And at Ricoh, we've always imagined change.
With our legacy of innovative technology that has changed the way we work, and our deep expertise in accessing, capturing and managing information, we deliver solutions that are harnessing the power of today's changing workforce. We are leaders in information mobility because we understand that it's not just about information access. It's finding the information that's important, and using it to drive the results you want. Fast.
In this new world of work, Ricoh makes information work for you.

Our Coverage Area Includes but is not limited to: Statesville Copiers , Mooresville Copiers, Denver Copiers, Cornelius Copiers, Boone, Copiers, Lincolnton Copiers, Taylorsville Copiers, Wilkesboro Copiers, Morganton Copiers, Gastonia Copiers & Lenoir Copiers.
If you are not sure if we cover your area please give us a call.